Early Intervention Notebook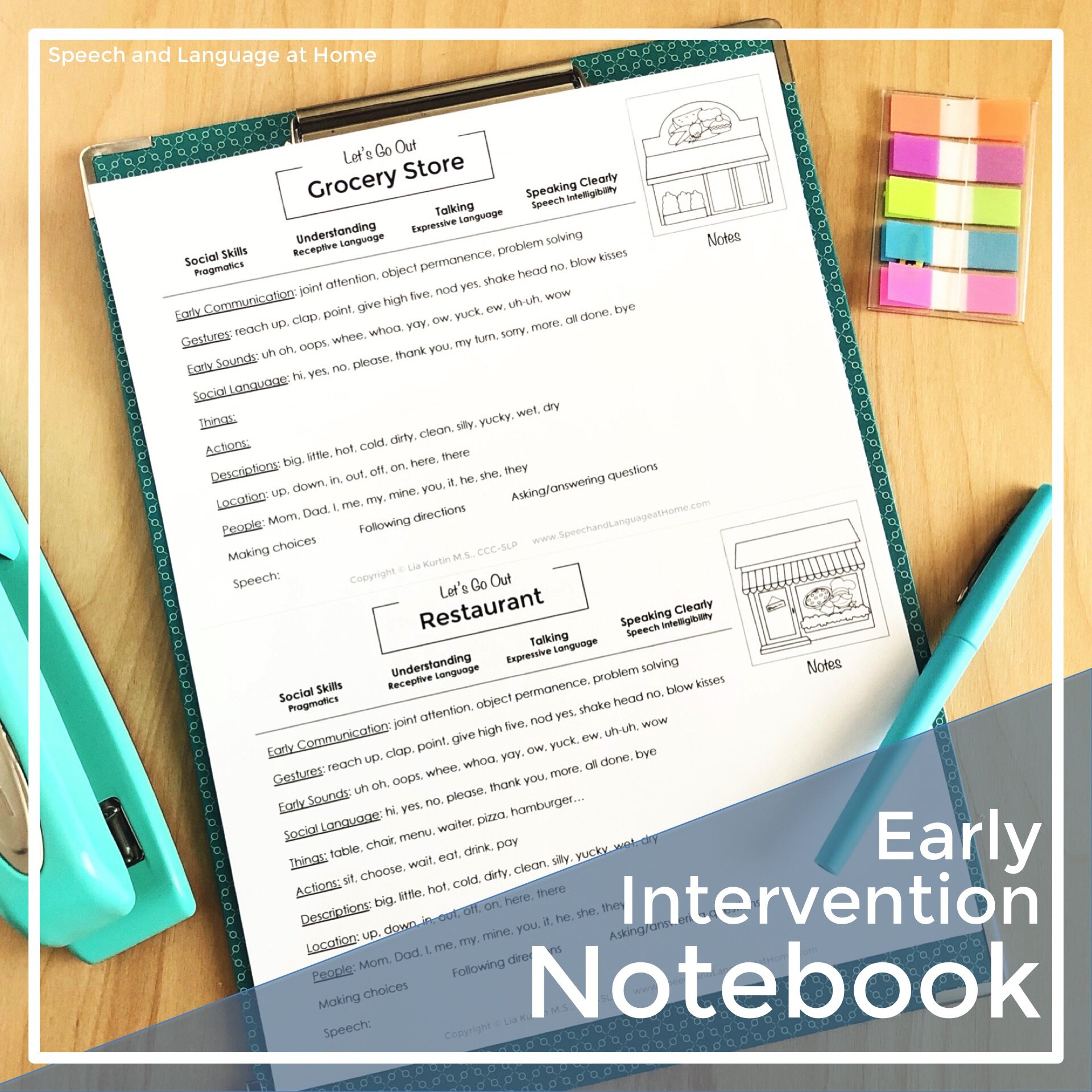 Early Intervention Notebook
Do you wish you had handouts for families on how to use speech and language at home? Now you do.
This early intervention notebook designed for home health SLP's and early intervention specialists includes information, worksheets and handouts for parents.
This instant PDF download includes:
Over 20 pages of information and worksheets to use for coaching families.
What is Speech Therapy

The Coaching Model

Tips for Families

Wellness Reminders

Toy Buying Tips

Toy Rotation

Screen Time Recommendations

My Child (Strengths and Interests/Needs and Concerns)

Play Ideas (Toys and Activities)

My Support System Worksheet

Local Resources Worksheet

Online Resources Worksheet

Support System Contact List

Local Resources Contact List

Professionals Contact List

Our Weekly Schedule

Weekly Speech and Language Goals (Blank)

Monthly Speech and Language Goals (Blank)

Monthly Speech and Language Calendars (Blank)

Simple Reflection Form

Simple Progress Tracking Sheet
Plus 28 pages of full or half sheet handouts (ink-friendly black line). That is 56 ways to use speech and language at home and in the community.
Target vocabulary is suggested but there is also room to write specific goals.
Handouts Topics
Daily Activities: Getting Dressed, Brushing Hair, Going to the Bathroom, Washing Hands, Eating, Brushing Teeth, Taking a Bath, Reading a Book, Saying Hi / Bye, Going to Sleep
I Can Help: Make the Bed, Pick up Clothes, Feed a Pet, Walk the Dog, Carry Groceries, Cook, Sweep, Water Plants, Pick up Toys, Throw Away Trash, Set the Table, Wipe the Table
Let's Go Out: Take a Walk, Ride in a Car, Visit Family, Church, The Park, The Playground, Grocery Store, Restaurant, The Dentist, The Doctor, The Movies, The Zoo, The Pool, The Beach, The Post Office, The Vet, The Library, School
Let's Play: Bubbles, Blocks, Dolls, Cars or Trains, Dress-up, Ball, Music, Kitchen, Arts and Crafts, Animals, Puzzles, Read Together, Bike Ride, Swim, Wrestle, Dance
SLP Record Sheets
Child Information Sheet

Early Skills Checklist

Sounds and Exclamatory Words Record Sheet

Early Signs Tracking Sheets (1-50)

First Words Tracking Sheets (1-50)

Blank Data Tracking Sheet

Blank Notes Sheet

Local Resource List

Online Resource List

Professionals Contact List

Mileage Form
What you'll receive:
A digital PDF download (133 pages). No physical product will be shipped.
To use:
You will need to have an up to date version of a PDF Reader like Adobe Reader installed on your computer to open this resource.
Questions or Concerns?
I'd love to hear from you. Email me: Lia@speechandlanguageathome.com
* Special Offers *
Get discounts and access the Free Printables Library when you sign up for my newsletter.