Find it Fast Articulation Early Sounds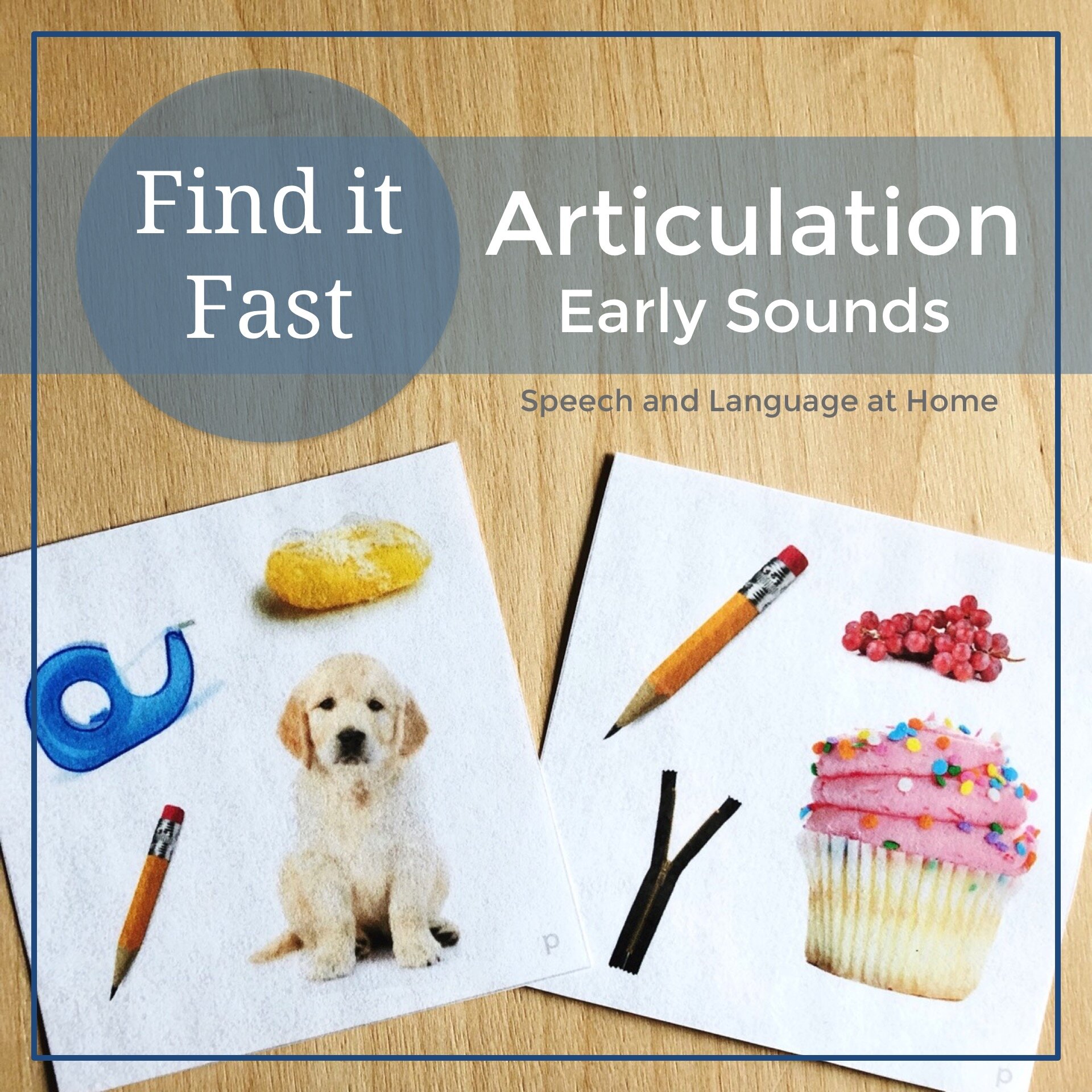 Find it Fast Articulation Early Sounds
A fast pace speech therapy game perfect for those high energy preschoolers. These Find It Fast games are a fun way to target early speech sounds (P B M N T D K G F). Mixed positions and a playful activity are perfect for improving carryover of articulation sounds.
This instant PDF download includes:
Find It Fast game to target early speech sounds (P B M N T D K G F)

10 MORE games, plus additional activities

Picture word banks
Speech

Words listed by initial, medial and final sounds

Individual word list sheets
Language

Yes/No Questions

Wh Questions

Categories, Descriptions

Basic Concepts

Negatives

Plurals

Compare / Contrast

Facts and Opinions

Tier 2 Vocabulary
Social Skills

Rubric (circle 1 - 5) for turn-taking, topic maintenance, asking for clarification, clarifying and repairing breakdowns, regulating emotions, respecting others
Phonemic Awareness

Auditory Discrimination

Rhyming

Syllables

Initial Sounds

Final Sounds

Blending

Segmenting
Find It Fast P
Target Words: apple, jump, cupcake, grapes, zip, pajamas, cup, pants, pencil, puppy, soap, pear, tape
Find It Fast B
Target Words: bag, bike, bee, bed, bowl, bus, boot, ball, table, bug, bear, tub, cube
Find It Fast M
Target Words: markers, milk, muffin, tomato, shampoo, tummy, remote, swim, comb, pajamas, computer, gum, game
Find It Fast N
Target Words: nose, noodles, knife, notebook, nap, nurse, phone, run, pencil, headphones, pen, money, can
Find It Fast T
Target Words: top, toes, table, team, two, tie, tub, toys, boot, potato, coat, cat, hat
Find It Fast D
Target Words: dog, doughnut, duck, dishes, hotdog, slide, spider, bed, hand, bread, dip, door, noodles
Find It Fast K
Target Words: blanket, couch, markers, keys, car, coat/jacket, fork, cat, sick, cookie, book, sock, backpack
Find It Fast G
Target Words: pig, gone, egg, go, bag/groceries, hamburger, nuggets, good, hotdog, goldfish, garbage, bagel, dog/pug
Find It Fast F
Target Words: phone, half/fig, foot/feet, leaf/fall, family, full, five/left, fun, muffin, waffle, fish, photo, football
Easy Prep
Create 1 set of square picture cards, word bank and small picture cards to use for EVERY game and worksheet.

Square format (no circles to cut!)
What you'll receive:
A digital PDF download (101 pages). No physical product will be shipped.
To use:
You will need to have an up to date version of a PDF Reader like Adobe Reader installed on your computer to open this resource.
Questions or Concerns?
I'd love to hear from you. Email me: Lia@speechandlanguageathome.com
* Special Offers *
Get discounts and access the Free Printables Library when you sign up for my newsletter.