Find it Fast Articulation Late Sounds Set 2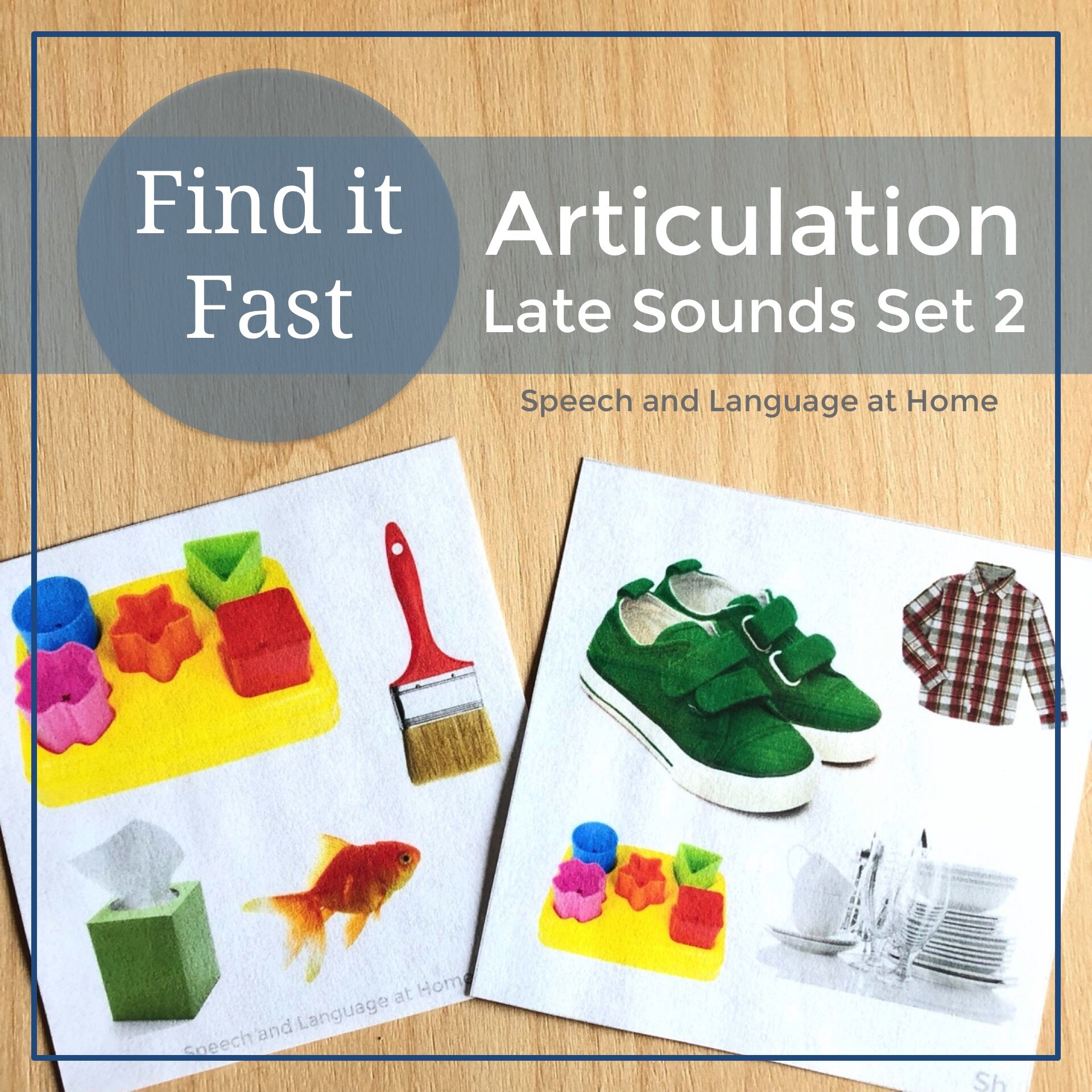 Find it Fast Articulation Late Sounds Set 2
Try these FUN new games for your mixed groups in speech therapy? Find It Fast games target more than just late speech (digraphs). Now more than 10 games for language AND phonemic awareness goals too.
This instant PDF download includes:
Find It Fast game to target late speech sounds (Sh, Ch, J, Th)

10 MORE games, plus additional activities

Picture word banks
Speech

Words listed by initial, medial and final sounds

Individual word list sheets
Language

Yes/No Questions

Wh Questions

Categories, Descriptions

Basic Concepts

Negatives

Plurals

Compare / Contrast

Facts and Opinions

Tier 2 Vocabulary
Social Skills

Rubric (circle 1 - 5) for turn-taking, topic maintenance, asking for clarification, clarifying and repairing breakdowns, regulating emotions, respecting others
Phonemic Awareness

Auditory Discrimination

Rhyming

Syllables

Initial Sounds

Final Sounds

Blending

Segmenting
Find It Fast Sh
Target Words: dishes, paintbrush, shirt, sharpener, goldfish, shampoo, tissue, shark, trash, shapes, shoes, ship, shell
Find It Fast Ch
Target Words: punch, chicken nuggets, chess, sandwich, couch, cherries, chair, change, chick, check, chocolate, charger, cheese
Find It Fast J
Target Words: Jelly-O, jar, jump, juice, package, garbage, Jellybeans, giraffe, jelly, fudge, orange, jump rope, jacket
Find It Fast Th
Target Words: teeth/mouth, thermos, through, bathe/bathtub, think, toothpaste, three, throat, toothbrush, throw, Earth, moth, math
Easy Prep
Create 1 set of square picture cards, word bank and small picture cards to use for EVERY game and worksheet.

Square format (no circles to cut!)
What you'll receive:
A digital PDF download (46 pages). No physical product will be shipped.
To use:
You will need to have an up to date version of a PDF Reader like Adobe Reader installed on your computer to open this resource.
Questions or Concerns?
I'd love to hear from you. Email me: Lia@speechandlanguageathome.com
* Special Offers *
Get discounts and access the Free Printables Library when you sign up for my newsletter.