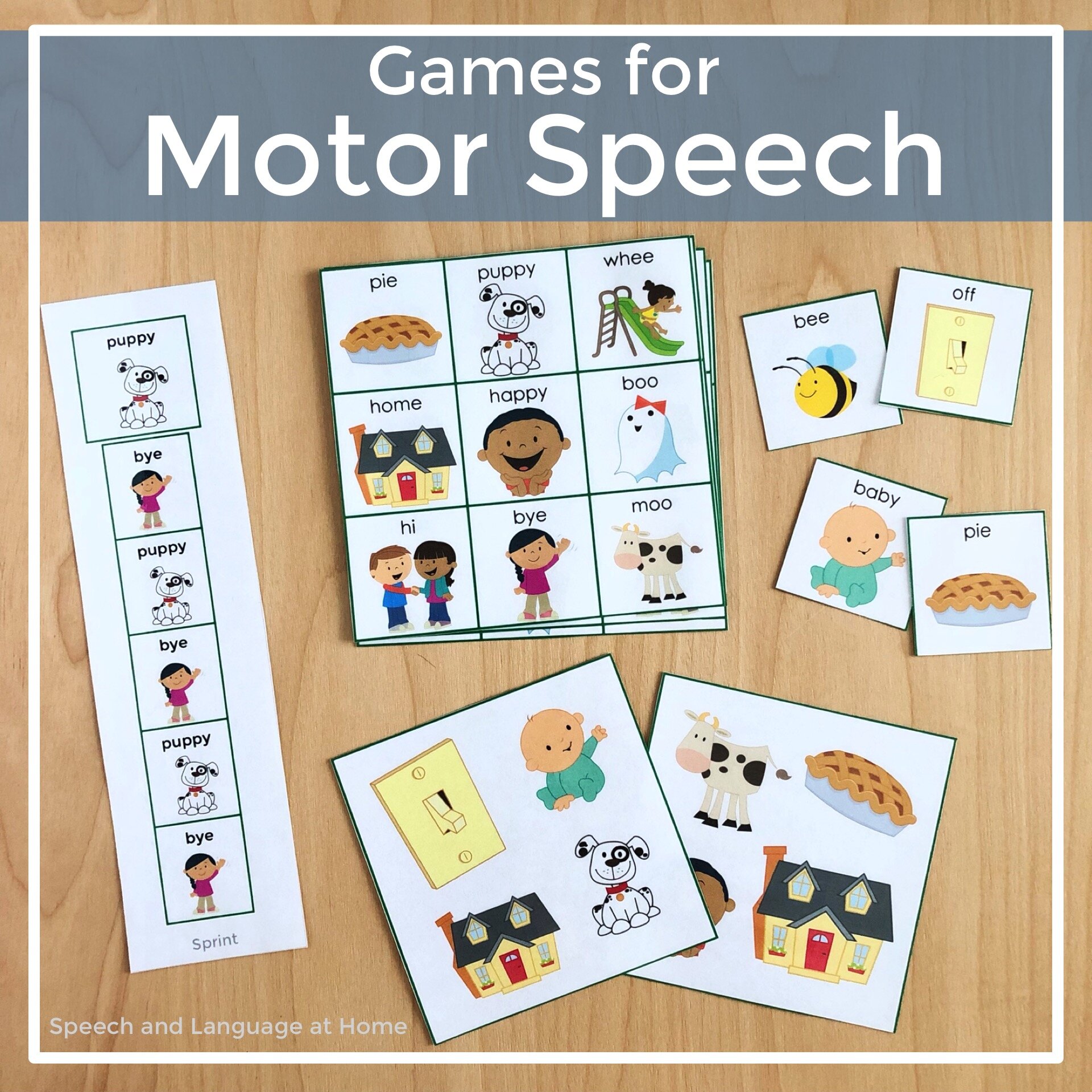 Games for Motor Speech
I created these games for Motor Speech when I needed activities for doing PROMPT therapy (http://www.promptinstitute.com/). I use these with my clients who have Apraxia (CAS), and Down Syndrome.
This instant PDF download includes:
Move That Jaw
(Picture cards: pop, Mom (Mama), mop, Pam, bib, hop, baa, ham, Pop (Papa), up, bomb, map, Bob, bam (bop), pom pom)
Move Those Lips
(Picture cards: pie, puppy, whee, boo, moo, home, happy, boy, baby, bee, hi, bye, wow, off, I/me/my)
Move That Tongue
(Picture cards: apple, ball, bear, van, meat, hat, bat, banana, hippo, bug, bus, boat, coat, bunny, top)
Move that Mouth
(Picture cards: treasure chest, potato chips, watermelon, party hat, strawberry, scarf, spaghetti, butterfly, cheeseburger, astronaut, marshmallow, spider web, sprinkle, flashlight)
The Games (with directions)
Cariboo cards (Cariboo game not included)

3 Strikes

Spot It

Memory

Bingo

Blackout

Sprint

Go Fish
These are designed to be portable for travel between homes visits. Labels and suggestions for storage are included. Color printer and laminator recommended
What you'll receive:
A digital PDF download (10 pages). No physical product will be shipped.
To use:
You will need to have an up to date version of a PDF Reader like Adobe Reader installed on your computer to open this resource.
Questions or Concerns?
I'd love to hear from you. Email me: Lia@speechandlanguageathome.com
* Special Offers *
Get discounts and access the Free Printables Library when you sign up for my newsletter.