Noun and Pronoun Flip Books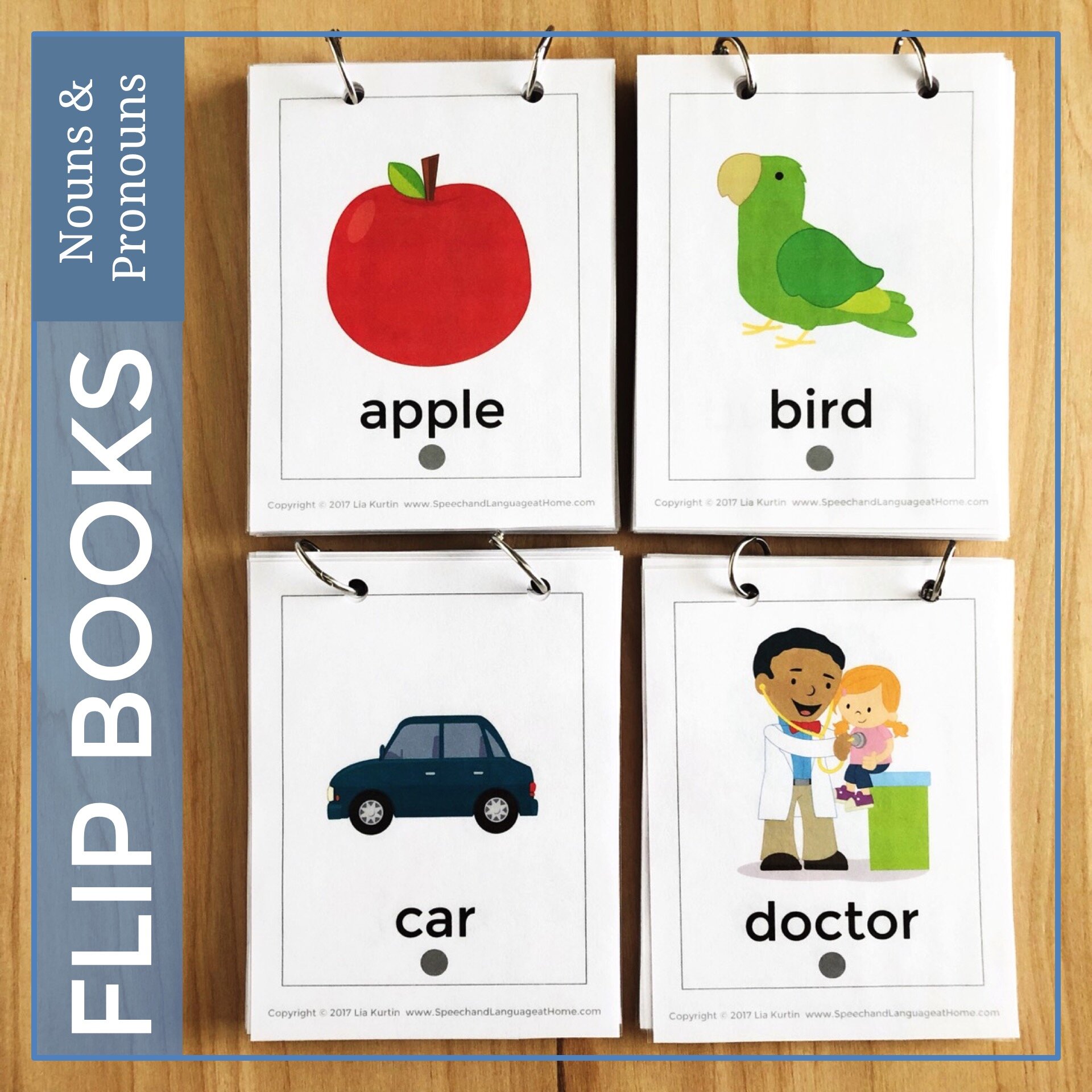 Noun and Pronoun Flip Books
Flip books are perfect for expanding sentence length. I've been successful by starting with these simple nouns and pronouns. Then I add Verbs and Adjectives and Propositions to create endless possibilities for phrases and sentences.
This instant PDF download includes:
Noun Cards (in color and black and white)

Sorting mats

Defining cards

Describing (EET companion cards)

Pacing boards

Attribution game: find something...

Langauge processing hierarchy

Phonemic awareness hierarchy
Nouns included:
Animals:
dog, cat, fish, bird, shark, dolphin, whale, octopus, skunk, rabbit, fox, deer, mouse,
squirrel, spider, bat, frog, bee, caterpillar, butterfly, ladybug, moth, worm, snail,
cow, horse, goat, sheep, pig, goose, hen, duck, hippo, kangaroo, panda, giraffe,
alligator, polar bear, zebra, turtle, elephant, bear, lion, tiger
Foods:
apple, orange, banana, watermelon, carrot, corn, broccoli, lettuce, bread, cereal,
pretzel, popcorn, egg, cheese, mac and cheese, yogurt, spaghetti, sandwich,
pizza, hamburger, chicken, ham, hot dog, turkey, pie, ice cream, cake, chocolate,
water, milk, juice, soda
Furniture/Home/Things:
bed, couch, bookshelf, desk, rug, dresser, table, chair, blender, iron, stove, refrigerator, plate, fork, knife, spoon, cup, mug, pitcher, pan, fan, lamp, vase, clock, garbage, grill,
TV, tablet, map, key, broom, brush, oven, glass
Vehicles:
bike, motorcycle, scooter, canoe, taxi, bus, boat, ship, ambulance, fire truck, train,
police car, crane, semi, dump truck, hot air balloon, jet, helicopter, car, jeep, truck, van
Places:
home, city, zoo, park, dentist, school, restaurant, grocery store, fire station, police
station, post office, hospital, farm, forest, jungle, mountains, ocean, river, savannah,
desert, house
People:
mom, dad, sister, brother, grandmother, grandfather, baby, teacher, fire fighter, police officer, farmer, zoo keeper, doctor, dentist, vet, chef
Clothes/Accessories:
shorts, sweatshirt, jeans, pants, shirt, pajamas, skirt, dress, scarf, mittens, sweater,
coat, cap, backpack, socks, shoes, ring, necklace, watch, sunglasses, jacket, hat
Tools:
drill, screwdriver, hoe, pliers, ax, saw, shovel, wheelbarrow, hammer, nail, wood, brick
Toys/Music:
xylophone, drum, violin, guitar, play dough, ball, bubbles, doll, blocks, stuffed animal,
game, cards
School:
paper, binder, scissors, ruler, paper clip, stapler, tabe, glue, pencil, eraser, crayon, marker
Nature:
grass, leaf, cactus, tree, stick, rose, rain, sun, flower, cloud
Don't have color ink? No problem. All the cards come in both color and black & white.
What you'll receive:
A digital PDF download (160 pages). No physical product will be shipped.
To use:
You will need to have an up to date version of a PDF Reader like Adobe Reader installed on your computer to open this resource.
Questions or Concerns?
I'd love to hear from you. Email me: Lia@speechandlanguageathome.com
* Special Offers *
Get discounts and access the Free Printables Library when yousign up for my newsletter.