Play Skills Parent Handouts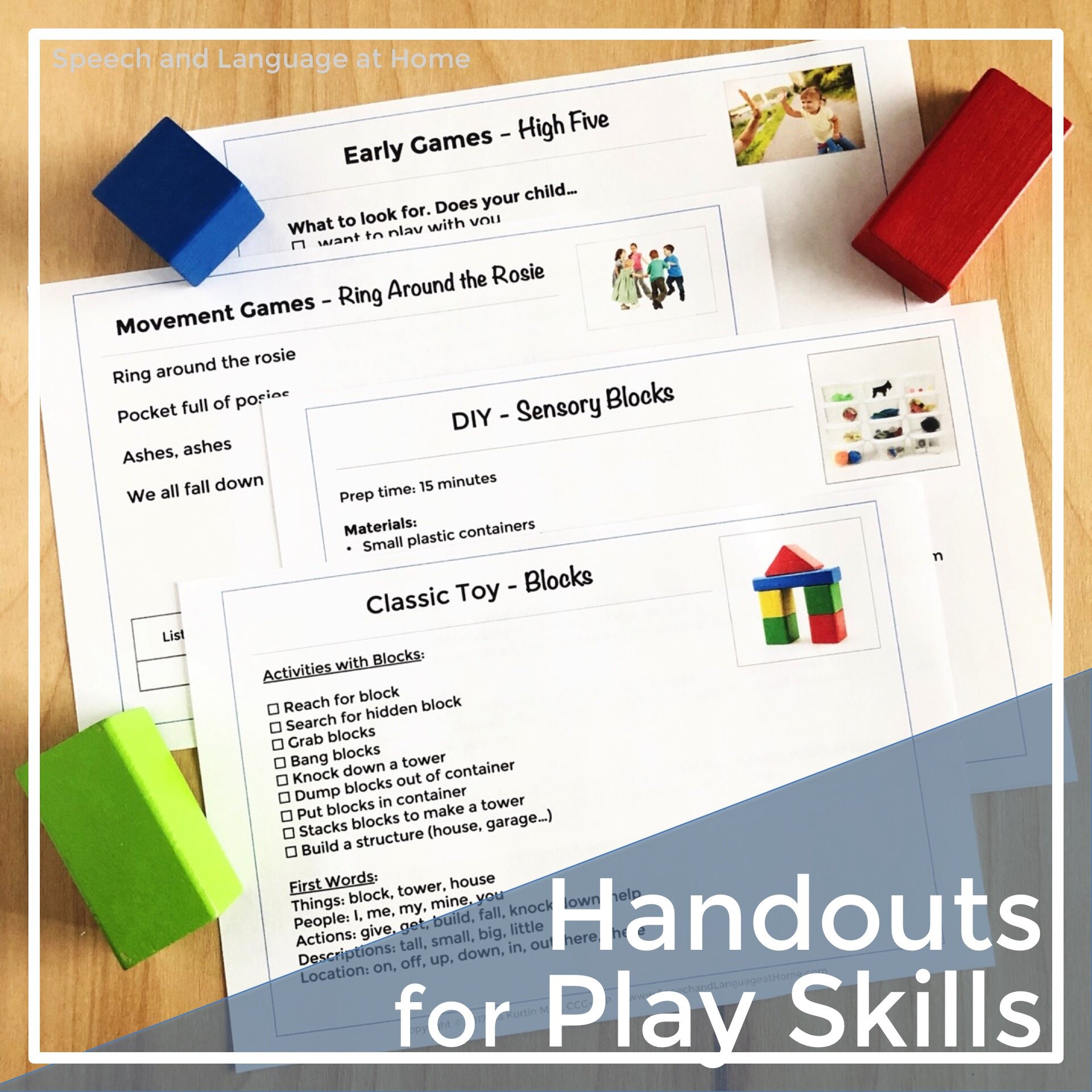 Play Skills Parent Handouts
Play skills are SO important in early intervention. These no prep handouts can help give parents simple ideas for building their child's speech and language skills through play. From classic toys to DIY toys, early games to movement games, these handouts will give plenty of activity ideas.
This instant PDF download includes:
Index of handouts (mark off the ones you've given to families)
12 Classic Toy activity ideas (6 pages of half sheets)
dress-up, play figures, blankets, ball, vehicles, dolls/puppets, balloons, bubbles, blocks, play dough, play food and kitchen, box or basket
12 DIY Toy ideas (6 pages of half sheets)
book, construction set, instruments, ball drop toy, play mat, container play, straw rocket, sensory blocks, no-bake play dough, edible paint, stacking cups
12 Early Game ideas (6 pages of half sheets)
tickle, I'm gonna get ya, where's bear, wave bye-bye, blow kisses, wanna dance?, so big, look! high five, peek-a-boo, yay! night night
12 Movement Game ideas (6 pages of half sheets)
jump over a rope, obstacle course, hide and seek, what's missing, hokey pokey, duck duck goose, parachute, follow the leader, ring around the rosie, scavenger hunt, walking walking, relay race
What you'll receive:
A digital PDF download (27 pages). No physical product will be shipped.
To use:
You will need to have an up to date version of a PDF Reader like Adobe Reader installed on your computer to open this resource.
Questions or Concerns?
I'd love to hear from you. Email me: Lia@speechandlanguageathome.com
* Special Offers *
Get discounts and access the Free Printables Library when you sign up for my newsletter.