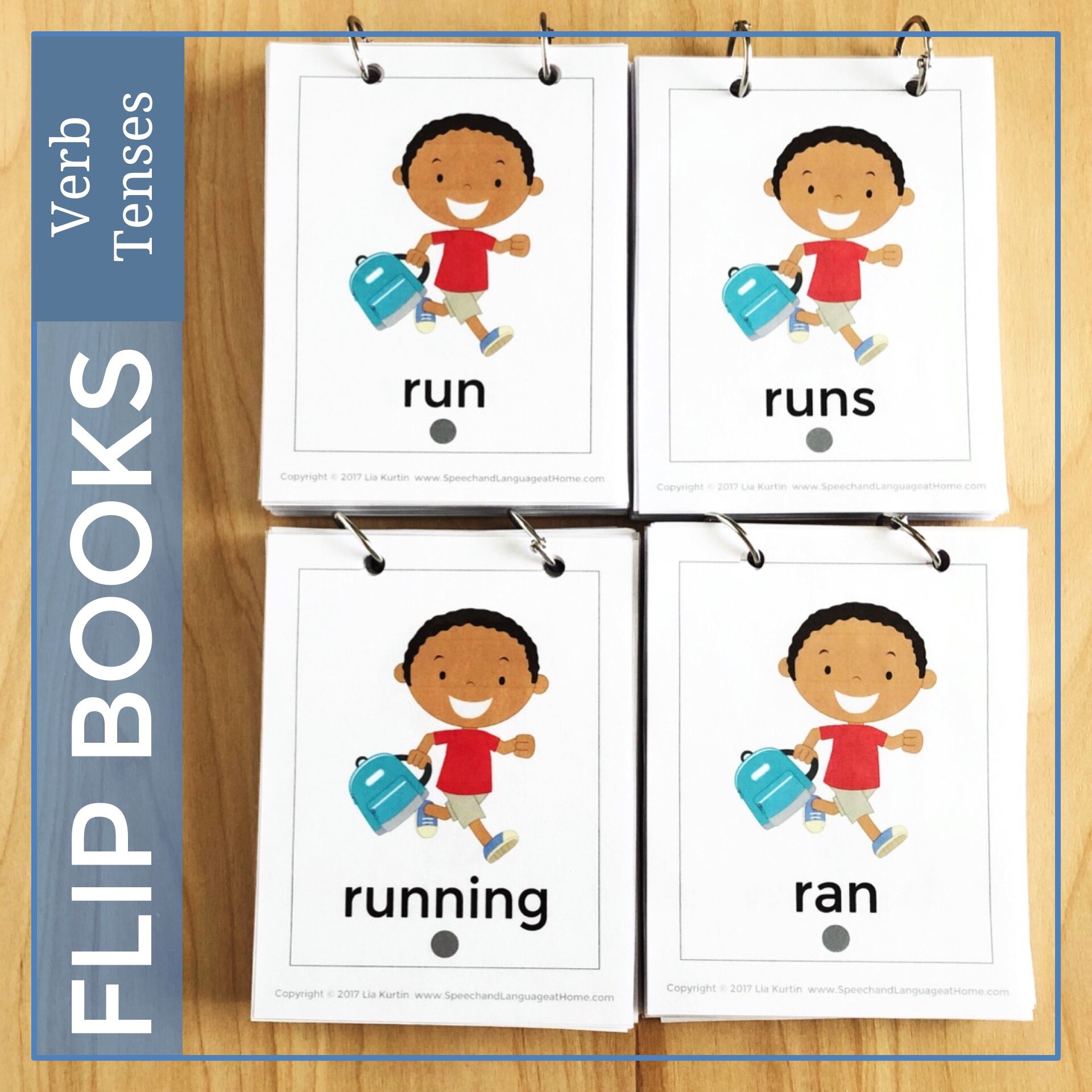 Verb Tense Flip Books
Flip books are perfect for expanding sentence length. Action words is where it's at! Target past (-ed), present (-s, -ing) and future tenses. Pair with Nouns and Adjectives and Propositions flip books for endless possibilities for phrases and sentences.
This instant PDF download includes:
Set 1
16 verbs for He, She and They (all the same words for comparing)
(He is running, She is running, They are running).
These can be used for comprehension, ex. "Show me They are running."
run, walk, look, help, play, ride, sweep, sit, read,
sleep, jump, swing, pick, draw, feed, point
Set 2
50 more verbs, 25 for he and 25 for she (different words)
bite, blow, brush, carry, cheer, clap, climb, comb,
crawl, cry, dance, dig, drive, eat, exercise, fall, fish,
float, fly, get (dressed), go, hit, itch, kick, laugh, listen,
make, pack, pour, pull, push, put, raise, rake, rip, ski,
sled, slide, smell, smile, sneeze, swim, take (a bath),
think, throw, wash, water, wave, yawn
All verbs include a card for the following tense
Present (run)

3rd person (runs)

Present progressive (running)

Past (ran)

Blank (to label or write on)
Also included:
Regular and Irregular Past Tense Verb Charts

Verb Tenses Chart

Sentence Starter Cards
There are A LOT of cards (330!), feel free to just print what you need as you need them.
Don't have color ink? No problem. All the cards come in both color and black & white.
What you'll receive:
A digital PDF download (257 pages). No physical product will be shipped.
To use:
You will need to have an up to date version of a PDF Reader like Adobe Reader installed on your computer to open this resource.
Questions or Concerns?
I'd love to hear from you. Email me: Lia@speechandlanguageathome.com
* Special Offers *
Get discounts and access the Free Printables Library when you sign up for my newsletter.